Exante - a new meal replacement option for UK veggies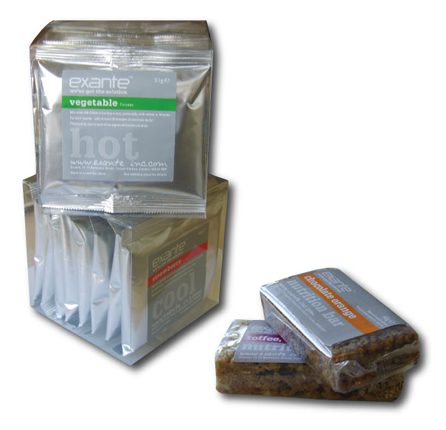 Exante is a UK-based manufacturer of meal replacement products, they are unique in that they contain very high quality ingredients including no artificial colours, MSG or aspartame. There are 11 flavours, 4 soups, 4 shakes and 3 bars, and although one of the soups is called 'thai chicken flavour' they are ALL completely vegetarian.
The support on offer is very flexible, and they consider that you should be able to choose the kind of support you actually need when you're losing weight. You can simply purchase the products online or via certain UK retail outlets listed on the site, you can choose to visit a consulant for weekly advice, use a telephone support line, or obtain support by email (which is answered quickly). There is no forum yet on the Exante site.
Each sachet of soup or shake mix contains around 200kcals, the bars are around 210g, and each contains at least 1/3rd of all daily requirements for vitamins, minerals and trace elements, so theoretically can be used as a VLCD. They call this approach the 'Total Solution' and state you need to have a BMI of 25+ and purchase through consultants. You state on ordering that you are over 18 and have none of the medical contraindications listed on the site. Exante advise that most people however use the 'Simple Solution' which involves 3 or 4 packs per day, + a low calorie evening meal, to bring total daily calorie intake up to 1200kcal, and there is also an intermediate 'Working Solution' at 1000kcal per day.
As ever the recommendation is to drink at least 2-3 litres of water or equivalent liquids along with your packs. To meet the required nutritional RDAs, it is advised to have a 4th pack daily if you are over 5'8'' or exercising heavily. The bars contain more fibre and carbs than the soups and shakes so are advised limited to 1 per day. On the upside however they do actual look taste and feel like a pleasant chewy cereal bar, with none of the aspartame aftertaste found in other brands. The soups too are very thick and creamy, best mixed with a hand whisk, but don't taste powdery and do contain actual bits of carrot or mushroom etc which rehydrate to a pleasantly filling meal. The shakes are lightly sweetened with sucralose and to some will taste rather unsweet if accustomed to other VLCD brands - a telephone adviser suggested adding a sweetener tab if this is a problem for you.
On the website there are suggestions and recipes for the extra daily meal which should be high in protein and low in gi and carbs - including 2 nice veggie ones to try, Tofu and bean casserole and Quorn baked aubergine. For the working solution this 'meal' is more of a snack as it should be 400kcal. As with every list of recipes, veggies can adapt whats on offer by substituting tofu for chicken etc, to create a wider range of choices.
There is a 4th programme, the Healthy Solution, designed as a 4 week maintenance plan to cover the reintroduction of 'normal' food. The website contains a useful 'hints and tips' page which has a lot of information about how to interpret food labelling to make healthy choices, ie how to define foods that are high or low in fat, sodium etc; also interpreting the 'traffic light' system. There are also free downloadable pdfs containing ingredient details, goal setting and a food diary.
The costs of the programme are £49.98 for 21 packs, which given you probably need to add 'real' food as well makes it fairly pricey - but you can get a lot of support time for that if you take it up. You can select your packs in the Exante online shop and choose any combo you like. They are currently offering a promotional variety pack of 21 packs (a week's supply) for £36.75, BUT this includes the 'thai chicken' soup, and they will not vary the selection for the promotional rate. They point out that this soup is as vegetarian as the others... so if you are a vegetarian who doesnt mind eating something chicken flavoured this might be an option, though it won't suit everyone.
Exante WILL ship outside the UK at cost, but the packs are quite dense and weighty if you include the bars so this can become expensive!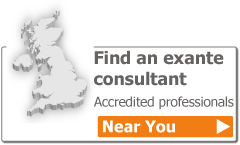 Click here to return to return from Exante to Meal Replacements page


Click here to return from Exante to Vegetarian Weight Loss Success home