Nutrisystem - complete vegetarian meal replacement programme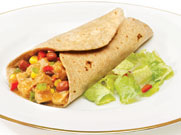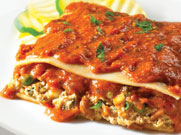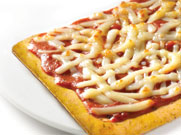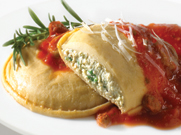 Nutrisystem is a meal-replacement programme operating across the US and Canada, delivering ready-made meals, designed as a low calorie, low GI and completely nutritious and simple weight loss system. They offer a range of specific programmes, including both men's and women's vegetarian plans. This comes to your door in a 28-day pack with everything you need to eat (although they do recommend the addition of some fresh fruit and veg).
Vegetarian entrees are:
- Cheese Ravioli with Basil Tomato Sauce
- Flatbread Pizza
- Mushroom Risotto
- Pasta Primavera with Tofu
- Sourdough Pizza with Cheese
- Thick Crust Pizza
- Vegetable Lasagne with Basil Tomato Sauce
- Vegetarian Chili
- Pasta Fagioli
- Vegetable Fajita
There are also a wide range of soups, snacks, bars, savouries and even a microwaveable chocolate cake! Frozen meals are available, and currently there is a 'free week' offer for extra value.
In addition to the vegetarian programme, there are programmes for diabetes, and for older people, and the opportunity to select your own items from their inventory of over 120 foods.
Rather than being "very low" in calories the diet is based around low glycaemic index 'good' carbs, combined with the right amount of protein to stabilise hunger and blood sugar levels. The trick is in the perfect portion control - you don't have to count weigh or measure anything, just eat what is in the packs, designed to give you something to enjoy every few hours throughout the day. No calorie or carb or other info is available on the website, you just have to trust the system to supply what you need, in quantities that will promte successfull weight loss. Some snack-type items are delivered ready to eat, others require microwaving or heating on the stove with added water, but all are quick and easy to prepare.
In addition to the food orders, the first 28 day order is accompanied by a 'Results kit', which is tailored to the programme ordered but includes:- a personalized Meal Planner - their bespoke Mindset Makeover™ behavior modification guide created with the help of renowned weight management expert Gary Foster, Ph.D. - an exercise DVD by an acknowledged fitness expert - Complete online account and community access guide - the site offers free ongoing telephone and online counselling and support. There are also online tools for tracking food eaten, activity levels, weight loss achieved etc.
The free ongoing counselling and support, delivered by phone and online in a livechat so you never have to go to a centre or visit a counsellor - or get weighed by a stranger! - is a huge attraction of this particular offering. Support is delivered through a free membership system, details of which are supplied with the first food delivery, and gives immediate live access to trained counsellors and dieticians.
A supplementary programme, NutriSystem Balance, is designed for use towards the end of weight loss and includes a greater range of fresh foods, as well as further manuals and lifestyle guides/fitness trackers.
Orders can be placed online or by phone, and they are happy to tailor programmes to meet the needs of clients with allergies and other special dietary needs, although the manufacturers stress that the diet is NOT suitable for vegans.
New variants of the diet include Nutrisystem flex - a cheaper way to follow the programme based on 5 days per supplied meal replacements combined with advised healthy homemade options on weekends, and also Nutrisystem Select which includes gourmet ready made frozen meals (some of which are veggie-friendly).
All in all, its a very comprehensive programme - too bad it's not yet available in Europe.



---
Click here to return from Nutrisystem to Meal Replacements page


Click here to return from Nutrisystem to Vegetarian Weight Loss Success home